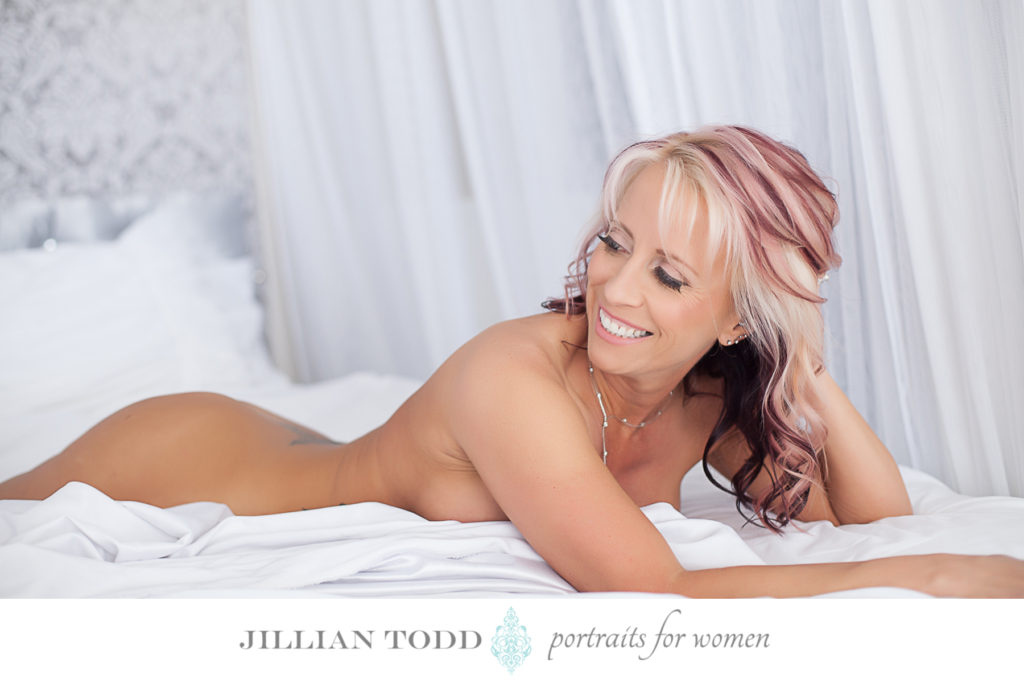 Citrus Heights Boudoir Photography: Discovering My Hidden Beauty
What was your biggest fear before hiring us for Citrus Heights Boudoir Photography? Did it come true, and if not, what happened instead?
I would say my biggest fear was really not knowing what to expect. I mean, you have in your mind an idea of what will happen but you never know until you follow through and actually do it. I will tell you, my nerves were in a bundle before the session, even while sitting in the studio getting my hair and makeup done, which I'm guessing is a pretty normal and common experience. But as we talked and laughed I started to become more and more relaxed. Then it was time to get changed into my outfit and the nervousness returned. I mean it's not like I walk around in lingerie and high heels every day. But again, there you were Jillian putting me right at ease with talking, laughing and not to mention the purring. I was so comfortable by the end of the session that I had no problem walking around completely naked.
What, specifically, was your favorite part of your Citrus Heights Boudoir Photography experience, and why?
My favorite part other than it being so much fun? I would say it would have to be having my hair and makeup professionally done. In my job as a nurse I do not wear much in the way of makeup, nor do I style my hair. I'm lucky if I put on a quick coat of mascara, and as for my hair it goes up into a pony or bun so it's out of my way. It was a nice change to be pampered like that and to know it will be forever immortalized in pictures.
What advice would you give to someone considering booking a session with us for a Citrus Heights Boudoir Photography Session?
If you are considering booking a session with Jillian, whether for yourself or as a gift for a loved one, my advice is a common slogan I'm sure you've heard before. JUST DO IT. You will not regret the experience. Every step of the process from initial contact to the session itself to picking up your selected photos/goodies, Jillian makes you feel special. Jillian treats you with such class and a caring warmth of heart you know this is her passion to make women feel empowered and beautiful.
What responses did you get from your Beloved/friends/family about your images?
Only a select few girlfriends have seen the finished images. The responses I have received from these girlfriends tend to be "Oh. My. God!" "Wow!" and "You look gorgeous!". These exclamations are usually followed by wanting to know who I went to and what the experience was like. I am more than happy telling them about Jillian and encouraging them to do a photo session so they can have the same feeling when looking at their own finished photos.
What types of negative things (if any) did you tell yourself before your Citrus Heights Boudoir Photography session?
I would say it's more like what didn't I say to myself before the session. The constant self doubt and criticism we as women tend to tell ourselves was in full effect. I'm not thin enough. I don't have the model body, tall and slender. I have a belly. I have cellulite. Maybe I should wait until I'm in better physical shape. I have scars. Am I that full of myself that I think I'm pretty enough to be in these types of pictures?
What did your experience do to silence those doubts?
The experience with Jillian silenced these doubts by letting me see myself in a different light. I may not be skinny or tall. I have life scars that are visible. But I am unique and beautiful in my own way. It showed me that I need to embrace who I am and how I am, love myself for me, stop comparing myself to unattainable photo-shopped versions of what I think I should be, and let myself shine for the rest of the world to see. This is me.
What did you take away from your Citrus Heights Boudoir Photography experience that surprised you the most?
I think what I took away from this experience that surprised me was a little more self confidence. I have always been pretty confident in my career but not so much in my appearance. Having these photos and seeing that I do and can look pretty and sexy was a definite boost.
If you could give your Citrus Heights Boudoir Photography session a title, what would it be?
If I could give my session a title maybe it would be "Letting Out the Hidden Beauty" because I have never seen myself as beautiful or sexy. This experience has shown me that I am, that I can be. It tends to be hidden in the day to day life I live so this experience let it out to shine. I thank you for that Jillian.
What three words describe your experience best?
Maybe not the three words you'd expect to have following a photo session. Fun. It was a lot of fun. Growth. It has helped me grow internally to stop some self doubt. Deserved. We do so much for others that we need to take some time to do things for ourselves.
What three words describe Jillian Todd Portraits the best?
Professional. An understatement. Classy. Jillian treats you with nothing but class. Beautiful. The hair/makeup, the settings, the photos.