Should You Buy This Boudoir Outfit
Victoria's Secret Apron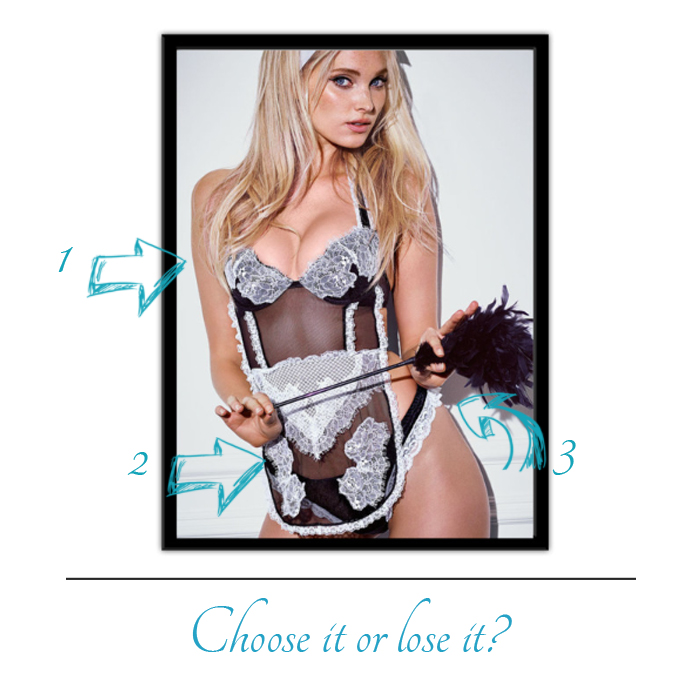 When you book your boudoir photography session, one of your biggest questions is about your boudoir outfit. There are a lot of suggestions about boudoir outfit ideas here, but I'd love for you to be able to check out something on the hanger and figure out if it is a good boudoir outfit for YOU.
Let's check out the VS Apron. Doesn't it look fantastic on the model?  There are variations of this outfit all over the internet, and I will admit this is one of the better ones.
1/ This boudoir outfit has cups, which give support for women without implants. This is important, because if you are over a "B" or "C" cup, without at least a seam or a wire, the girls will slip below the bottom of the bustline and end up looking like a tummy roll.
2/ I am not fond of the waistline here, mainly because of the transition to the apron/flap over the hips, it isn't flattering, even on the model.  The other consideration is what type of poses this would work for. Pretty much standing. Laying down or sitting, it will look a bit awkward and we'd be using a lot of body tape.
3/ What is emphasized: this boudoir outfit puts a LOT of emphasis on the hips. Most women I talk to say this is not one of their favorite body parts.
So while this particular apron style boudoir outfit is better than many of the others, I would NOT recommend this style. I love the top half, that's about it.
My verdict: Lose it.